April 12, 2018 | Product Brief | AeroVironment, Inc., a  supplier of industrial fast and opportunity charging solutions for electric forklifts has introduced PosiCharge ProCore OC, the newest addition to the company's premium intelligent charging family that supports and charges any material handling battery.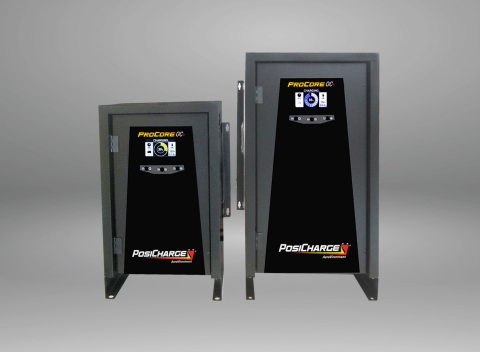 "ProCore OC expands our PosiCharge ProCore intelligent charging product line with an opportunity charger designed to deliver efficiency, ROI on material handling operations and the reliability our customers expect," said Ken Karklin, vice president and general manager of AeroVironment's Efficient Energy Systems business segment. "Safe, reliable, and easy-to-use, ProCore OC offers many of the built-in features and much of the functionality typically found on our premium ProCore fast charger solutions, and at a lower price point."
Karklin added that ProCore OC also rounds-out the PosiCharge product offering, providing Material Handling customers a single source for a full line of intelligent charging solutions.
"With multi-voltage flexibility, plus the ability to support and charge any forklift battery regardless of type, chemistry, voltage or size, ProCore OC very capably meets the opportunity charging needs of the material handling industry," he said.
ProCore OC's compact design and high frequency power stage technology make for a lighter, more efficient charger that takes up less floor space. While its modular power stages ensure ultimate flexibility, its robust, single port architecture makes ProCore OC highly customizable. This operational flexibility translates to less repair time and increased productivity. And its colorful, digital display makes reading and understanding charger operations easier.
This latest addition to AeroVironment's family of premium intelligent fast and opportunity charge systems includes a wide array of features that makes it easy to use, flexible, customizable, and cost-effective. Like other PosiCharge ProCore models, ProCore OC ranges in power from 5kW for lower-duty vehicles to 30kW for the hardest-working electric forklifts. making the ProCore series well suited for electric forklift fleets of all sizes.
ProCore OC's innovative app allows users to program the charger and download data via a smartphone running iOS or Android, which means that configuring new units and managing fleets can be done remotely. All PosiCharge intelligent charging systems are designed to deliver a measurable, positive impact on the environment by reducing the total number of batteries required to operate each fleet, and by improving the efficiency and performance of every battery.