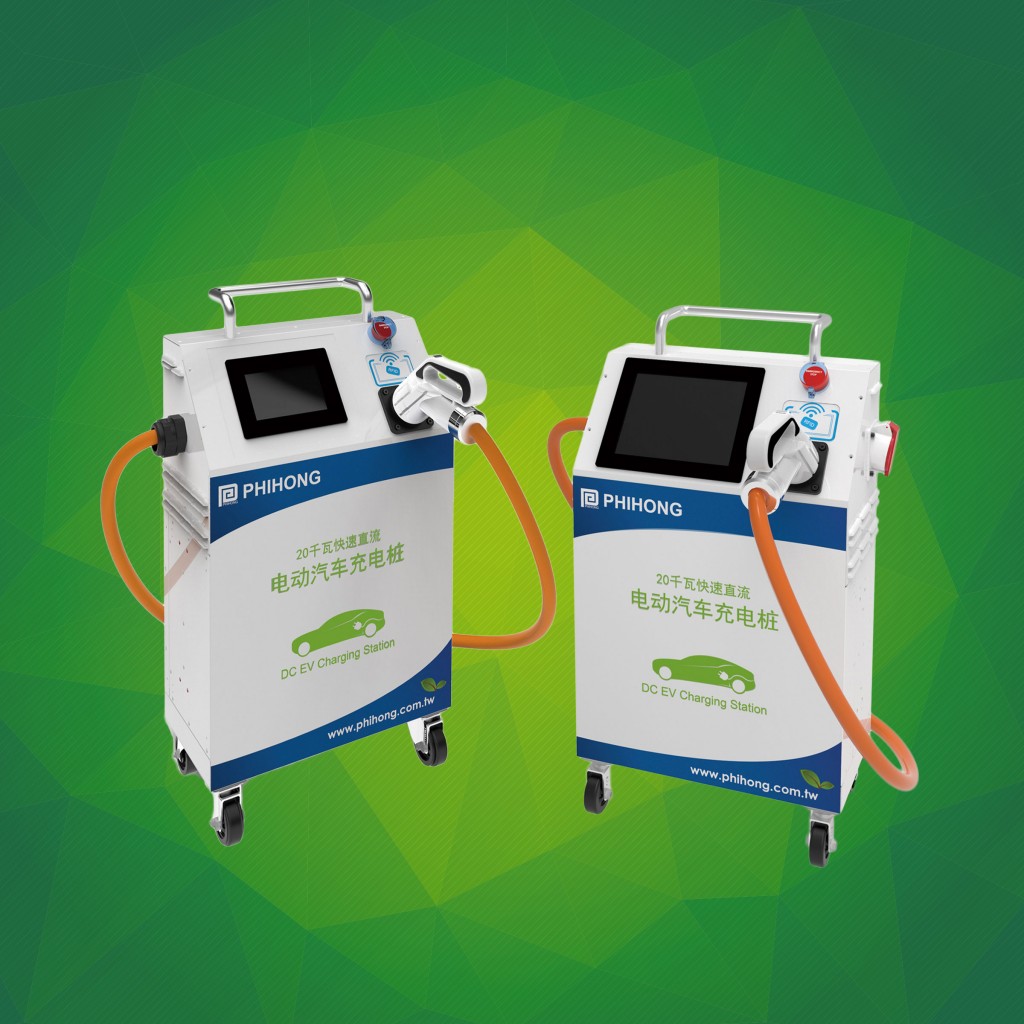 Phihong  has announced a family of moveable EV DC off-board chargers that provide quick and highly efficient charging solutions for personal and commercial electric vehicles with 200 to 700 volt battery systems. Featuring a convenient moveable design, Phihong's new EV DC charger family is currently comprised of 20kW, 40kW, and 60kW models, all of which are compliant with the latest GB/T standards for electric vehicle interface and conductive charging system requirements issued by the Chinese National Committee of the ISO and IEC. Implemented on January 1, 2016, these latest GB/T standards directly correspond to IEC 61851 requirements regarding electrical safety, charging function and performance.
Phihong's 20kW, 40kW, and 60kW EV DC chargers deliver high output power capable of fully charging personal and commercial EVs more quickly than many competing models, and boast a variety of features designed to provide customers with simple, safe, convenient and extremely efficient EV charging solutions. Equipped with intelligent RFID card readers and 7-inch user-friendly LCD touchscreens, each model is outfitted with tactile start, stop and emergency stop push-buttons, and features an Ethernet-based connection that enables remote assistance, troubleshooting, repairs, integration and upgrades. Each model also features a charging gun with an electronic lock function to ensure safety during the charging process. Easy to utilize, move, and maintain, the new EV DC chargers are ideal for highway gas/service stations, commercial fleet operators, EV dealer workshops, parking garages, EV infrastructure operators and service providers and household applications.
Currently available in five models: 20kW, 40kW and 60kW, each of the EV DC chargers features a modular, compact, digital and high frequency (47~63Hz) power module that delivers 93 percent efficiency with a power factor of >0.99 at full load. The entire family has an input voltage rating of 380Vac ±15 percent or 480Vac ±10 percent, and is compliant with the following GB/T standards: 18487.1-2001, 18487.2-2001, 18487.3-2001 and 20234.3.