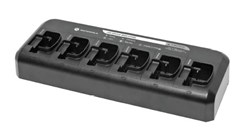 Delmmar Communications Corp., a provider of commercial two-way radios and radio repair to companies nationwide, has announced the addition of two new enhanced Multi-Unit Chargers for Motorola radios. In addition to offering Motorola Solutions energy and charging products, Delmmar now offers businesses the option of enhanced Commercial Series multi-unit chargers (MUCs), and continues to provide Impres MUCs for the Mototrbo line of two-way radios. The majority of business radio users use the single unit chargers which came standard with their radios. Businesses who have numerous chargers can find it challenging to fine adequate space and electrical outlets to accommodate the chargers. The use of a six unit gang charger, also known as a multi-unit charger (MUC), can be used to solve the problem. The MUC has a smaller footprint and requires only one electrical outlet.
Due to technological advances in the radio industry manufacturers, including Motorola Solutions, are beginning to offer new and smarter energy and charging products. The recently introduced Commercial Series MUC offers a compact design for a smarter, more productive workspace. This gang charger features an industry standard six pockets for batteries to charge either on or off of the radio. Improvements to this MUC were prompted by dealer and customer requests for chargers with versatile interchangeable charging pockets. "Our business customers asked for a way to charge both CP185 and CP200 radios in the same gang charger. We are very pleased to see this new product offering," said Delmmar president and CEO C.S. Lintner.
The new Multi-Unit Charger PMLN6588 is compatible with the CP150, CP200, CP200d and PR400 Commercial Series radios. The MUC PMLN6597 is designed to be compatible with the CP185. Extra interchangeable pockets are soon to be released, part numbers: NNTN8460 for CP200 family of radios and NNTN8461 for the CP185. For convenience a Wall Mount Bracket NNTN6844 is expected to be released soon as a separate option.