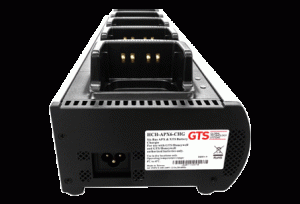 Global Technology Systems, Inc. (GTS) has release its newest two-way radio charging solution for the public safety/municipal market. The ruggedized single and six-bay chargers are engineered to provide users with a unique all-in-one solution for their entire fleet of Motorola radios. Unlike most chargers, the GTS APX chargers can charge mixed devices simultaneously, removing the need for multiple charging units.
"In the past, when upgrading radio models, users have been forced to purchase costly charger upgrades. This solution saves money without sacrificing quality or performance", said Scott Benezra, vice president of North American Sales at GTS, "This is yet another example of our company's dedication to solving the mobile power challenges our customers face."
Without the need for adapter cups, they utilize multiple contact points to accommodate batteries or radios of different shapes and sizes. The multi-chemistry chargers support NiCd, NiMh, Li-Ion and Li-Poly chemistries. Furthermore, the chargers feature an internally mounted power supply which dramatically reduces the unit's footprint.The universal chargers are a new  addition to GTS' product line of high-performance mobile power products for two-way radios.