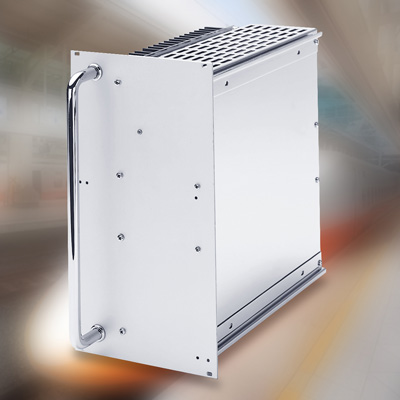 Schaefer, Inc. has introduced the C/B3500 series of 850 Watt DC-DC and AC-DC converter modules and battery charger. Utilizing industrial grade components, the compact and robust 6U design provides a highly efficient, space-saving solution for the most extreme environments including a variety of onboard (74 VDC to 110 or 24 VDC) and wayside installations (115 VAC to 12 or 24 VDC). Other industrial applications include military, transportation, alternative energy, and process control systems.
The highly efficient C3500 converters are available in seven standard DC input voltage ranges from 18 VDC up to 640 VDC. AC input options are single-phase 115 VAC or 230 VAC (with or without PFC) or three-phase inputs of 3×200, 3×400 and 3x480VAC. Single outputs are available in twelve standard ranges encompassing 5 VDC to 400 VDC. All outputs are adjustable and fully regulated to 0.2 percent or better (load) and 0.1 percent (line).
The C3500 has comprehensive protection circuitry and efficiencies are up to 92 percent. Safety and construction standards meet both EN 60950-1 and EN 50178. EMI according to EN 61000-6-4, Class A (optional Class B upon request). Featuring natural convection cooling and a standard operating temperature range of –20°C to 75°C (derate 2.5 percent/°C from 55°C), with an option for -40°C to 75°C. DC-DC and AC-DC models have remote sense capability. Options include increased mechanical strength, tropical protection, extended operating temperature, input diode, input MOV (600+ VDC), active current sharing interrupt.