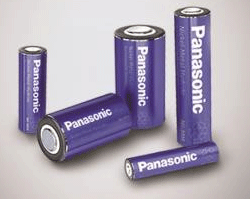 Panasonic has expanded their comprehensive range of Ni-MH batteries. The Panasonic engineers have  further refined the specifications of these types, which are specially designed for use in extreme temperatures. The world's largest manufacturer of industrial batteries now also offers infrastructure types in Ni-MH technology.
The low-temperature types BK-250A and BK-130AA can be used down to -30°C and up to 65°C. This makes them well suited for use in all exterior applications such as walkie-talkies, communications and locating devices.
The BK-310CH is a particularly robust battery that has an improved discharge characteristic in high temperature ranges. It is therefore suitable for backup systems, emergency lighting, street lighting, elevators and much more.
The BK-160AH  can best use them where long life is required in conjunction with an  good charging characteristic at high temperatures. This is the case, for example, in emergency lighting, backup systems and medical equipment.
The models BK-10V1S and BK-10V10T represent a brand-new offering from the battery specialist. With these units, Panasonic is marketing infrastructure types in Ni-MH technology for the first time. Compared with classic lead-acid models, this high-quality energy solution saves more space and is easy to implement. Ni-MH batteries have a high efficiency even at low temperatures.
The Panasonic infrastructure types are alternative for use in energy storage systems (wind, solar), in locomotives, driverless transport systems (DTS) and forklift trucks as well as for uninterruptible power supplies (UPS).