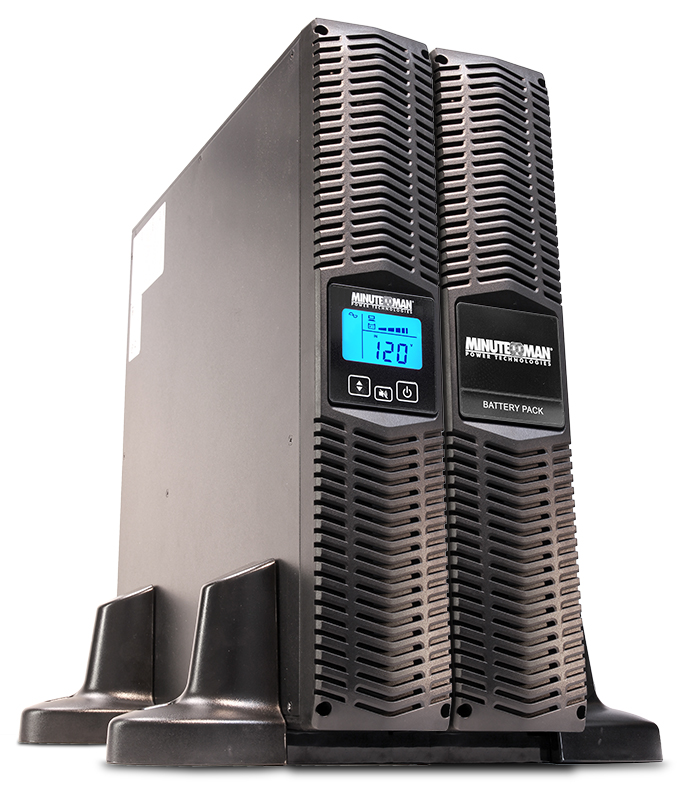 Para Systems, Inc. has added to its line of Minuteman Endeavor Online UPSs, the Endeavor 5 to 10 kVA line. These battery backup systems utilize double conversion technology and provide versatility for protecting large networks, servers, enterprise communications and large-scale security systems. New for the line are easy to configure bundles, providing one part number to build a complete part system, making the new Endeavor an easy to order option for users and specifiers of all knowledge levels.  Available models include 5 kVA, 6 kVA, 8 kVA and 10 kVA which can run in parallel to accommodate even higher load requirements.
By using double conversion, true online architecture, Endeavor 5 to 10kVA UPSs create an "electrical firewall" that provides the utmost protection for critical applications. Utilizing an AC-DC-AC process for incoming utility power at all times, the unit ensures a pure sine wave electrical signal with less than 2 percent total harmonic distortion (THD) and voltage regulation within +/-2 percent of utility power. Multiple external battery packs can be daisy-chained to provide a virtually unlimited amount of runtime when needed. All of this adds up to a solution for sensitive equipment that cannot afford to experience downtime.
For capacities up to 20 kVA, multiple Endeavor units can be ordered in a parallel configuration using a single part number initially, or multiple units can be connected later as power requirements increase. These configurations automatically operate as parallel for redundancy (N+1) below half load, and switch to parallel for capacity above half load.
Efficiency is a critical aspect of the Endeavor lineup. A 0.9 power factor along with ENERGY STAR certification provides efficient hardware and high power ratings, allowing users to see a significant savings in energy usage versus using multiple smaller units. For even greater efficiency and to further reduce power costs, Economy Mode can be enabled when using SNMP accessories and included SentryHD management software.
Endeavor's bundled part numbers provide a simple solution for even the most complicated installations. Complete systems with 208 V input and output, or 208 V in and 120/208 V out are configurable with a single part number. Units can also be factory configured for 240 V applications at an additional charge. Further options include multiple external maintenance bypass switches, stepdown transformers and additional battery packs, all of which can  be included in a single configuration.
Users can stay on top of all aspects of their power whether they are near the unit or at an off-site location, thanks to an on-board LCD status display and control panel, coupled with the ability to monitor power conditions remotely via Minuteman SentryHD software. Additionally, an SNMP option slot is included to accommodate Minuteman SNMP communication cards and management interface.
Along with the recently announced EnTerra 10-40kVA 3-phase units, Endeavor rounds out Minuteman's complete line of UPS solutions which covers loads from 400 VA to 160 kVA.
The Endeavor 5-10kVA UPS line is available now in the US through Minuteman's nationwide network of distributors and resellers, as well as authorized distributors in Central and South America.