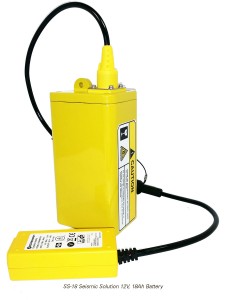 ICCNexergy, Inc. has released its seismic 12 V, 18 Ah Lithium-Ion battery pack solution. The SS-18 battery is a rugged outdoor product that operates effectively in the extreme environmental conditions of the geophysical exploration market. It is well suited for powering wireless nodes, particularly as a direct replacement for applications currently using 12 V Sealed Lead Acid batteries. The SS-18 has built-in charging electronics with LED charge level indication and smart battery functions including I²C communication and fuel gauging. It is also IP68 rated for limited submersion.
"Building on demand from the marketplace, we are proud to be launching our high performing 12V, 18Ah battery product for the seismic market," said Jeff VanZwol, ICCNexergy's Vice President of Business Development & Marketing. "Seismic exploration companies have embraced wireless communication with their data acquisition nodes, and untethered nodes need lightweight battery power. The SS-18 was designed for use in extreme temperatures ranging from -40°C to 70°C and rugged field conditions in a package that is a third of the weight of a conventional Sealed Lead Acid battery."
Compared to traditional Sealed Lead Acid batteries, the SS-18 Li-Ion Battery provides a longer runtime, faster charge time, consistent power output, smaller size and much longer service life. The SS-18 can be charged by mating it with ICCNexergy's seismic power supply or any available power supply with the appropriate output voltage range.
The SS-18 Battery is being produced at an ICCNexergy wholly-owned manufacturing facility.