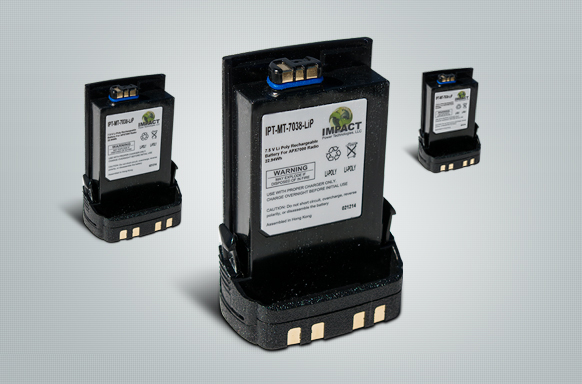 The IPT-MT7038-LiP is a direct replacement battery for Motorola APX 6000/7000/8000 series radios, and the latest addition to Impact Power Technologies (IPT) LifeSaver series line of extended life batteries for land mobile devices. This Lithium Polymer battery is manufactured using IPT's proprietary chemistry, an exclusive formulation of pure Japanese Polymer cells and sound operational circuitry, all regulated by a unique Battery Management System engineered to optimize this chemistry.
The IPT-MT7038-LiP has been tested and proven to run 20 hours and 900 charging cycles with no memory effect. The battery maintains 80 percent of rated capacity for a minimum of two years. It is compatible with OEM tri-chemistry chargers and, by federal law, OEM warranties remain in effect when using replacement batteries.
The IPT-MT7038-LiP allows public safety & government agencies to save money upfront with competitive replacement costs and overtime with a lower lifetime investment by reducing excessive OE reorders. More importantly, these batteries were originally developed to keep personnel safe by providing reliable, full-shift communications. IPT was the first to develop lithium polymer batteries, and continues to advance its technologies for high-performance power products.