Elke Hirschman, Vice President of Marketing
Trojan Battery Co., LLC
Trojan Battery and its team of engineers continually research and develop enhanced deep-cycle battery technologies to best serve a variety of markets.  In 2014, Trojan will focus its efforts on expanding our US-based manufacturing activities, and incorporating a proprietary carbon additive to its renewable energy battery lines.
Made in the USA
In recent years, Trojan has seen an increased demand both domestically and internationally for US-made batteries. Customers worldwide are quickly realizing that you get what you pay for, and choosing the cheapest battery option can cost more in the long run with frequent battery replacements.
To meet this growing demand, Trojan has established a fourth manufacturing facility in Sandersville, Ga. This plant will produce Trojan's wide range of deep-cycle battery technologies including flooded lead acid and valve-regulated lead acid (AGM).  Trojan's upcoming AGM battery will be the industry's first "true" deep-cycle AGM battery designed to meet the requirements of a variety of market applications that rely on batteries to power equipment.  Trojan batteries will shipped from this location to both OEM and direct end-user customers worldwide.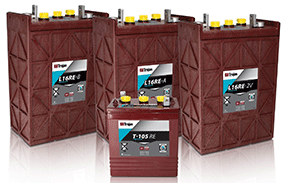 Carbon Technology Advancements
Increasing global energy consumption is placing great strain on existing power grids. Many electrical grids worldwide are inefficient and unable to consistently meet the demands of growing urban populations. Power outages are common and the demand for battery backup systems to provide stable power is becoming a valuable part of the overall energy mix. Rapid growth in renewable energy (RE), inverter backup and remote
telecom markets operating in either unstable grid or off-grid locations has focused attention on deep-cycle battery technology.
As adoption of these applications increase at a fast pace, many are finding that some deep-cycle batteries used in these systems never reach their expected cycle life, but do not know why.  The answer is simple, the occurrence of Partial State of Charge (PSOC) in which the batteries are often never fully recharged on a regular basis.
Operating at PSOC quickly diminishes overall battery life, which results in frequent, costly battery replacements.  Addressing the issue of PSOC and its impact on battery performance has remained a challenge, until now.  Advancements in carbon technology and its addition to lead acid batteries has shown to extend the life of deep-cycle batteries designed for RE, telecom and inverter backup applications.
Extensive research has been done by engineering teams at some of the world's leading battery manufacturers to determine what types of carbon and in what formulas can successfully address the effects of PSOC.  One example is Trojan Battery's Smart Carbon proprietary formula that provides improved performance when deep-cycle flooded batteries consistently operate in PSOC.  Smart Carbon helps enhance overall battery life in an application where the batteries are not fully recharged on a regular basis, and is currently featured in Trojan's Industrial and Premium flooded product lines.
As part of its continuous product improvement strategy, Trojan's engineering team researched the benefits of carbon additives for more than five years. The introduction of Smart Carbon makes Trojan the first flooded lead-acid battery manufacturer to release products that are specifically designed to provide maximum cycle life in PSOC applications.  Trojan also is currently researching options for adding Smart Carbon to it valve-regulated battery lines, such as AGM.
"… lead carbon batteries provide better performance in partial state-of-charge operations, making them optimal for applications requiring high-rate and recharge."
             – Advanced Lead Acid Battery Consortium1
"Newly developed carbon-based advanced lead acid technology has the ability to provide high energy efficiency and absorb charge rapidly, making it ideal for applications that operate at a partial state of charge."
               – Battery Council International2
Smart Carbon is a proprietary Trojan carbon additive applied to the negative plate to improve battery performance in PSOC applications.  PSOC occurs in a variety of applications including RE, inverter backup and telecom, for a variety of reasons:
1.  Improperly sized system (batteries and/or solar panels  are undersized).
2.  Cloudy days or shade caused by trees or structures preventing the ability of the solar panels to effectively collect and store enough energy to fully recharge batteries.
3.  Failure multiple times per day of the primary grid, or its functioning too short a time in a 24 hour period to fully recharge the batteries.
4.  Hybrid diesel systems being setup to minimize generator runtime and operating costs by not bringing the batteries up to a full state of charge each day.
The successful incorporation of carbon technology into flooded deep-cycle batteries is the most obvious choice since flooded technology continues to be the most widely used battery technology worldwide for renewable energy, remote telecom and inverter backup applications due to the widespread availability and more economical price point of flooded technology.
Leading industry market and technology research firms also conducted independent research on the use of carbon in lead acid batteries, and have found that carbon dramatically reduces sulfation in PSOC applications.
As a manufacturer of deep-cycle batteries, Trojan Battery Company believes it is possible to make a global shift to energy sources that are environmentally friendly and readily available worldwide.
References
1. Advanced Lead Acid Battery Consortium (ALABC) www.alabc.org/publications/vrlas-in-stationary-energy-storage
2. Battery Council International  http://c.ymcdn.com/sites/batterycouncil.org/resource/resmgr/Brochures/BCI_HEV_7-10-2012pdf?hhSearchTerms=%22carbon%22
For more information please visit www.trojanbattery.com.