The battery market has suddenly become alive again in recent years. On the one hand, batteries are assuming new form factors, becoming ultra-thin, flexible, rollable, stretchable, etc. On the other hand, manufacturing are scrambling to offer large batteries aimed at addressing the large-sized electric vehicle and grid applications.
For the past three years, IDTechEx Research has been tracking and analysing the emerging industry for batteries with novel form factors. In the report Flexible, Printed and Thin Film Batteries 2016-2026: Technologies, Forecasts, and Players, IDTechEx forecasts that this resurgent industry will grow from a small market base today to become a $470 million industry in 2026.
We find that thin, printed and/or flexible battery (or batteries with novel form factors) is a resurgent industry thanks to the rise of Internet of Things, wearables and environmental sensors. These applications often require new form factors and designs that traditional battery technologies simply cannot provide. This is why the likes of Apple, Samsung, LG, STMicroelectronics and TDK are all becoming increasingly involved.
We also find that this is a fast changing industry. In fact, we forecast that the market in 2026 will look nothing like the market today: everything will have changed including the end-users, winning technologies, manufacturing process and dominant suppliers.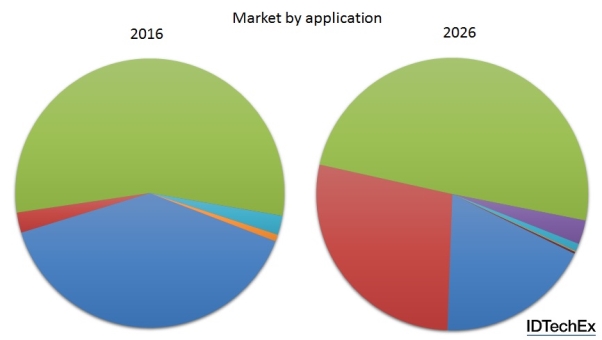 This will be remain difficult terrain to navigate as the industry is composed of many technologies, structural design strategies, application with non-overlapping requirements, etc. IDTechEx Research's report Flexible, Printed and Thin Film Batteries 2016-2026: Technologies, Forecasts, and Players is designed to help you understand the landscape and how it will change in the coming decade.
Oakridge Global Energy Solutions Inc., a publicly traded company, will ramp up and install more than 2.6 Gigawatt-hours of production capacity in its Brevard County, Florida facilities to manufacture electrodes, and cells. The company has also announced its new corporate image, branding and media communications tools in conjunction with its ramp up in January 2016.
As part of the plan, the company has decided to fully utilize the many patents developed and owned by the company in thin-film solid-state batteries. Oakridge Global Energy Solutions acquired Oak Ridge Micro-Energy Inc. in 2002 to further develop and commercialize the rechargeable thin-film solid-state lithium battery technology initially licensed from ORNL.
The company claimed to complete the last phase of pre-production prototyping in early 2016 and will be ready for final product and manufacturing in early 2017.
TDK has been working on battery-free energy harvesting solutions for wearable devices, wireless sensor networks (WSN), etc. At the same time, TDK plans to spend over 100 billion yen ($841 million) between the fiscal years of 2015 and 2017 to ramp up production of lithium-ion batteries since the company forecasts that the demand for thin-film battery products will grow in notebook PCs, robots and smartphones applications. Therefore, TDK has decided to double its investment (note: the company has already invested less than 50 billion yen in its Li-ion battery business during the previous three-year period). TDK also hopes to catch up with stronger global competitors especially those in South Korea via the investment.
TDK and Oakridge Global Energy Solutions are not the only companies entering the business. Even earlier, STMicroelectronics has started limited production of thin-film solid-state lithium batteries. Showa Denko Packaging announced its invention combining current collectors and packaging to enable battery flexibility and thickness reduction. Apple, Samsung and LG also showed their contributions to make flexible batteries for wearable devices. Indeed, Samsung is already using its curved battery in its own Gear Fit wristband.