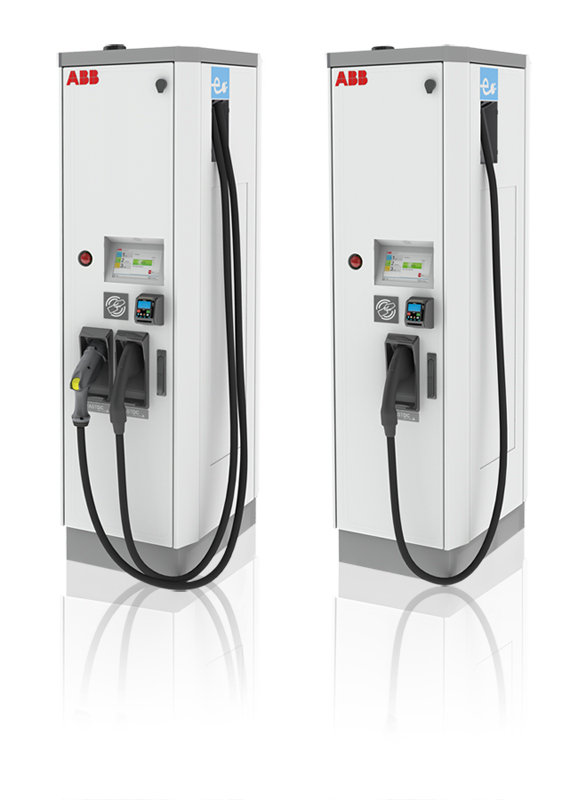 ABB  has received the Underwriters Laboratories (UL) listing for the latest members of its DC fast charging family, the Terra 53 with SAE Combo functionality.
ABB recently launched the Terra 53 DC fast charger, a 50 kW model with multi-standard extensibility, also offering variants of 20 kW, 30 kW and 40 kW. The new charger was awarded the UL rating for compliance with North American safety directives including the requirements of UL 2202, Electric Vehicle (EV) Charging System Equipment, and CSA C22.2 No. 107.1-01, General Use Power Supplies. The Terra models are also compliant with the Federal Communications Commission (FCC) Federal Code of Regulation (CFR) Parts 15B and 15C, pertaining to radio and frequency emitting devices.
"Achieving UL certification supports our mission to deliver safe, compliant, market-leading products to station owners and drivers," said Andy Bartosh, program manager of ABB's EV Charging Infrastructure business. "In addition, we've further optimized the product footprint so that sites can tailor their charging offering to their driving customers. Some sites require a quick 15 minute charge at 50 kW power, and some locations are better suited to an hour-long fast charge at 20 kW power."
ABB was the first manufacturer to have a working public installation of an SAE Combo charger in North America back in September. ABB's Terra 53C demonstrated successful back-to-back charging of a Chevy Spark EV and BMW i3 at the San Diego Fashion Valley Mall's eVgo public charging cluster.
"Achieving UL certification enables the continued rollout of the SAE combo connector, which is the new industry standard for DC Fast Charging of electric vehicles, and broadly supported by most major automakers," said Britta Gross, director of Advanced Vehicle Commercialization Policy at General Motors.  "This paves the way for the entire automotive industry to make electric vehicles more convenient for a vast majority of customers.  For example, owners of the Chevrolet Spark EV equipped with DC fast charge capability will be available before the end of the year in California and Oregon ."
"The availability of ABB's UL listed Terra 53C SAE Combo Charger will support the launch of the BMW i3 in the US in the second quarter of 2014," added Cliff Fietzek, manager of Connected e-Mobility at BMW of North America "The Terra 53 gives i3 drivers with the DC charging option, the possibility to recharge their car up to 80 percent in under 30 minutes, extending their EV driving range significantly."
The Terra family of DC fast chargers have been deployed widely throughout Europe and more recently in the United States, Canada and Mexico. All of ABB's charging stations are equipped with open network protocol support, cloud-connectivity, remote monitoring and remote management with seamless back-office integration. The charger's hardware and software combination gives drivers the best possible user experience through easy, secure payments via such options as smart phone, credit card reader, parking management terminals, RFID and pin code access. The Terra 53 variants are available with SAE Combo capability, and CHAdeMO capability can be optionally incorporated. This product rounds out ABB's existing portfolio of CHAdeMO charging units.