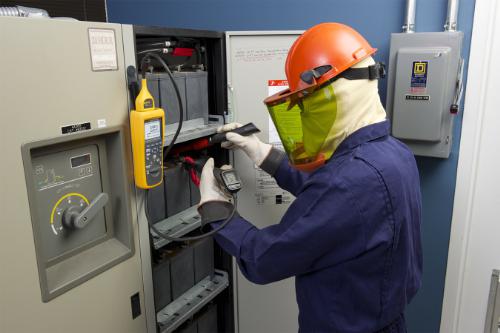 Batteries are the mainstay of backup power systems and require regular testing to ensure their reliability. The  Fluke 500 series Battery Analyzers simplify the workflow of testing stationary batteries and battery banks through an intuitive user interface that provides quick, guided test setups ensuring technicians are capturing the correct data while visual and audio feedback cues reduce the risk of errors. The Fluke 500 series is well suited for testing mission critical battery back-up applications in data centers, hospitals, airports, utilities, oil and gas and railways.
The rugged, compact 500 series Battery Analyzers perform all key measurements; including battery resistance, DC and AC voltage, DC and AC current (Fluke BT521 model only), ripple voltage, frequency and battery temperature (BT521 only). The 500 series Battery Analyzers have been specifically designed for measurements on stationary batteries including GEL, AGM (absorbed glass MAT), lithium-ion, as well as wet-cell lead-acid batteries.
The 500 series intelligent test probes streamline the testing process by displaying measurement results on their integrated LCD displays eliminating the need for technicians to stop and look at the mainframe. Technicians can capture voltage readings and temperature logging automatically or via the integrated save button, simplifying and speeding up the test process.
The probes feature infrared temperature measurement (BT521 only), tri-color LED for pass/fail/warning indications and audio feedback.
The analyzers include a convenient magnetic hanging strap with shoulder strap and an innovative carrying harness reduce fatigue while measuring long battery strings. They also include simple, yet powerful reporting and analysis tools that manage large volumes of data to produce analysis graphics and data tables on a PC or create quick email format reports with .csv files.