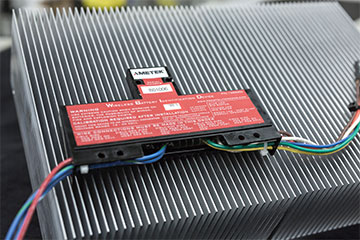 August 2, 2017 | Product Brief | AMETEK Prestolite Power has introduced a Wireless Battery Identification Device (WBID) that allows operators to monitor battery and charger usage for an entire fleet through continuous data collection. Data is transmitted wirelessly with ZigBee radio or over DC cables to a single data point where the data is available to download from multiple units simultaneously.
AMETEK Prestolite Power upgraded its WBID with the additional features requested by its dealers and end-users in an effort to improve on a product that already provides optimum results and quality, said Jim Lichtenberg, business manager for AMETEK Prestolite Power.
Data analysis and report generation is simple with the DataLink3 software. Users are able to review data and customize reports in either a graph or spreadsheet format with the option to toggle between both views. DataLink3 now offers the view of an event or graphic-based report from a 30-day summary overview of a fleet, or its five minute samplings may be used if a more detailed view is needed to help identify a problem. The connectivity range is up to 500 feet while mounted in the truck with the capacity to gather data for multiple devices instantly.