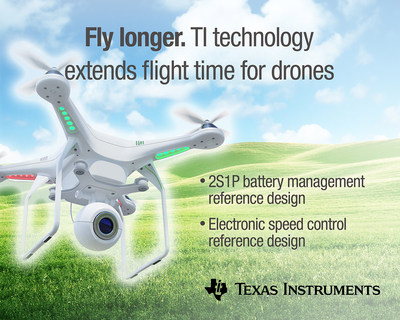 Texas Instruments (TI) has introduced two circuit-based subsystem reference designs that will help manufacturers add flight time and extend battery life to quadcopters and other non-military consumer and industrial drones used to deliver packages, provide surveillance or communicate and assist at long distances.
"Flight time continues to be a top design challenge for recreational quadcopters and professional drones, especially those being used by companies for beyond visual line-of-sight operation. Delivery companies want drones with enhanced battery life, and are testing delivery of parcels with drones to see how far they can go," said Stelios Kotakis, senior analyst of data transmission & managed services with IHS Markit. According to a recent IHS Markit study*, almost 50 percent of drones in the market have an estimated battery life of less than 30 minutes, 35 percent can fly between 31 and 60 minutes and the remaining 15 percent and less can fly more than an hour, all under ideal flying conditions without additional payload.

TI's 2S1P Battery Management System (BMS) reference design transforms a drone's battery pack into a smart diagnostic black box recorder that accurately monitors remaining capacity and protects the Li-Ion battery throughout its entire lifetime. Designers can use the drone BMS reference design to add gauging, protection, balancing and charging capabilities to any existing drone design and improve flight time. Leveraging the bq4050 multi-cell Li-Ion gas (fuel) gauge to accurately measure remaining capacity over the entire life of the battery, the design also features the bq24600 battery charge controller and a high-efficiency DC/DC converter to achieve high-efficiency power conversion efficiency.
Another barrier to increased flight time has been the inefficiency of turning a drone's propellers. TI's new reference design for drone electronic speed controllers (ESCs) will help manufacturers create drones with longer flight times and more smooth and stable performance. The Sensorless High-Speed Field Oriented Control Reference Design for Drone Electronic Speed Control helps electronic speed controllers achieve the highest possible efficiency with performance for speeds more than 12,000 rpm (> 1.2kHz electrical) including fast-speed reversal capability for more stable roll movement.
The design features TI's C2000 MCU InstaSPIN-FOC solution, including an F28027F microcontroller for precise motor control and FAST field observer proprietary software algorithm that estimates the rotor flux, angle, speed and torque. Motor parameter information is used to tune the current control bandwidth. Unlike other techniques, the FAST sensorless observer algorithm is completely self-tuning, requiring no adjustments for proper operation and propeller control. The design also includes a 60-V LMR16006 SIMPLE SWITCHER DC/DC converter with ultra-low quiescent current to efficiently manage a drone's lithium polymer (LiPo) batteries.