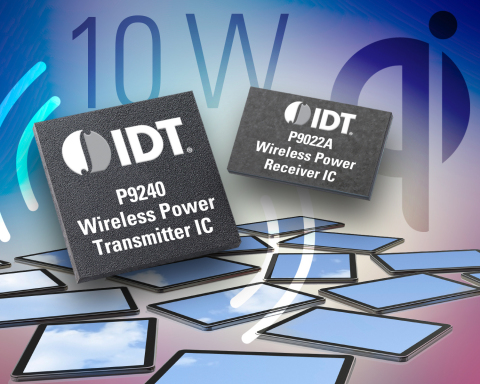 Integrated Device Technology, Inc. (IDT) has introduced a wireless power chipset designed to untether medium-sized electronic devices such as tablets and phablets. Complying with the Wireless Power Consortium (WPC) medium-power specification for magnetic induction charging, the P9240 transmitter and P9022A receiver operate together to deliver 10 W of power. The chips join the award-winning portfolio of IDT wireless power semiconductors already designed into smart phones, wearables, charging stations, furniture and accessories.
The P9240 is a compact transmitter supporting up to 15 W of power transfer. Featuring an integrated 32-bit ARM Cortex M0 processor, the transmitter's high level of integration means a minimal number of external components are required, reducing engineering efforts and board space. The chip is housed in a compact 5-millimeter-by-5-millimeter package.
The P9022A is a 10 W wireless charging receiver that enables faster charging of tablets, phablets, and smart phones with large batteries. The integrated microcontroller provides flexible programmability and allows the use of all WPC-compliant medium-power receiver coils in end applications. The P9022A receiver features an integrated synchronous full-bridge rectifier and a high-efficiency integrated synchronous buck converter.
"The wireless power ecosystem is growing rapidly as innovative design teams seek to cut through the tangle of cords needed to power our electronics," said Arman Naghavi, IDT's vice president of Analog Power Technology. "This new chipset brings IDT's uniquely flexible, compact wireless power capabilities to this mid-power class of electronics."
The P9240 is a wide input range transmitter chipset with an integrated step-down regulator. It features low standby current that meets Energy Star standards; proprietary slew rate control drivers that deliver best-in-class metrics for electromagnetic interference, allowing OEMs pass CISPR22 Class B tests with several dB margin; and simultaneous voltage and current demodulation for more robust receiver to transmitter communication. The transmitter supports I2C, SPI and UART serial interfaces.
The P9022A receiver has proprietary back channel communication, a two-way communication protocol feature that enables users to tailor operating performance, identification and authentication. The chip also provides improved foreign object detection (FOD) for safety.