Schaefer, Inc. has introduced the C/B 4500 series of 6U DC/DC and AC/DC converter modules and battery chargers that delivers up to 1,600W of output power. Utilizing industrial grade components, the compact and robust design provides a highly efficient, space-saving solution for the most extreme environments in industries such as rail and transit for railway controls, communications equipment, and beyond (onboard and wayside), military applications, transportation, alternative energy applications and process control systems.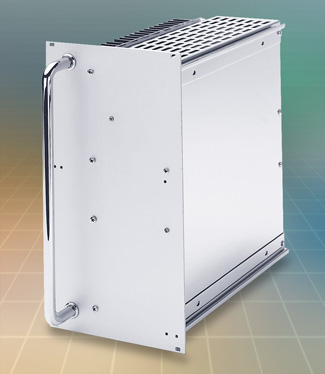 The highly efficient C4500 series offers three output powers of up to 900 W, 1,200 W and 1,600 W along with nine standard dc input voltage ranges: 10 to 16 V, 20 to 32 V, 40 to 64 V, 50 to 80 V, 80 to 160 V, 160 to 320 V, 320 to 640 V and 450 to 800 V. AC input options are 1-Phase 115 VAC or 230 VAC, as well as three-phase inputs of 3 by 200VAC, 3 by 400VAC, or 3 by 480 VAC. Battery charging models are also available. Units feature single outputs in 10 standard ranges from 12 to 400 VDC. All outputs are adjustable and tightly regulated to 0.2 percent or better (load) and 0.1 percent (line). Custom input and output ranges are readily available.
All modules feature a standard operating temperature of –20°C to 75°C (derate above 55°C), with an option for –40°C. All C4500 models have comprehensive protection circuitry including over-voltage, overload, short circuit protection and thermal shutdown with auto restart. Efficiencies are up to 92 percent. EMI performance is to EN 61000 Class A standards (Class B optional). Units are packaged in a rugged 6U by 21TE by 306 mm (HxWxD) module with an optional wall, chassis and DIN-Rail mount configuration available.