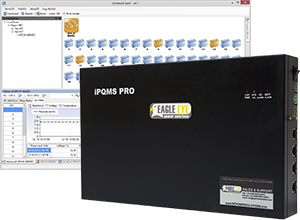 Eagle Eye Power Solutions has recently released the iPQMS-Pro Real-Time Battery Monitoring System, specifically designed for UPS Battery Monitoring. The iPQMS-Pro is a scalable system designed to monitor the health of critical battery systems by measuring: string voltage and current, jar/cell voltage and impedance, connection resistance and temperature.
The iPQMS-Pro Battery Monitoring System measures critical battery parameters via clamps connected to the inter-cell connections of the battery system. A single system includes an MPU (Main Processing Unit) and all required cables and clamps for installation. One MPU can connect to 48 cells (or 48 jars). Up to ten MPU's can be configured in daisy-chain for monitoring up to 480 cells (or 480 jars).
The iPQMS-Pro comes complete with Eagle Eye's Centroid Battery Management Software which allows all battery systems to be monitored 24 hours a day / 365 days a year via a remote computer. The iPQMS-Pro records, trends, and report data against user-defined tolerances. In the event that a measured parameter is out of tolerance, an outbreak alarm will occur in the software and email/SMS alerts will be generated. Immediate warnings of battery deterioration and failure will prolong the life of UPS batteries and reduce the need for costly battery maintenance and replacement. The iPQMS-Pro is an ideal solution for monitoring and predicting the health and performance of UPS Cabinets, Telecom Systems, and other backup power systems.
To learn more about Eagle Eye Power Solutions and the iPQMS-Pro Battery Monitoring System, please visit: http://www.eepowersolutions.com/products/ipqms-pro-ups-battery-monitoring-system/ or contact Eagle Eye at 1-877-805-3377.