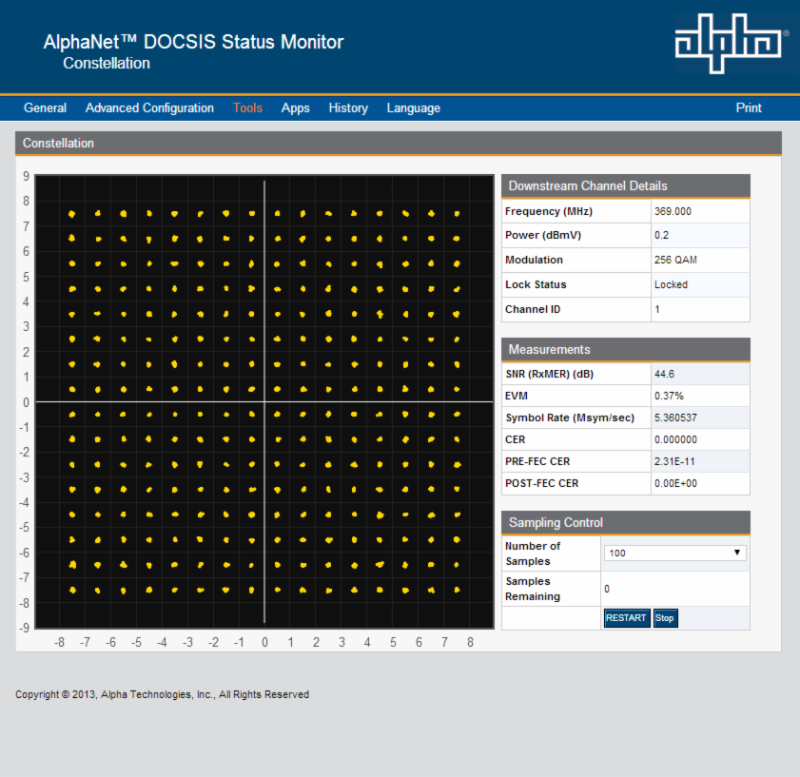 Alpha Technologies has announced the availability of a firmware upgrade for its AlphaNet DSM3 Family of Status Monitoring cards. The AlphaNet family of networking products, including the 3rd generation DSM3 DOCSIS Status Monitoring broadband power communication card, enables Alpha's XM3-HP, XM2-HP, XM2, XM2-300HP and GMX CableUPS to connect directly to an HFC network through an embedded DOCSIS cable modem.
The firmware upgrade, version 4.4.9.0_03.13, offers enhanced features, designed to provide operators with greater network visibility and diagnostic capabilities including downstream QAM constellation monitoring, microreflection monitoring, DC generator support and generic I/O device monitoring for accessories such as an enclosure moisture sensor or battery heater mat.
"The firmware upgrade is really designed to help network operators save money and increase reliability," said Greg Laughlin, Communications Product Manager. "The new features allow network problems to be identified remotely and pin-pointed at the power supply level so truck rolls are reduced and needed repairs can be coordinated more efficiently."
"DC generator support and I/O device monitoring provide greater visibility of those components, taking the guesswork out of the mix when answering question about their operational status." said Laughlin.
A single DSM3 installed in an Alpha CableUPS supports communications and system control for multiple Alpha power supplies and an AlphaGen generator system. Through a Simple Network Management Protocol (SNMP) interface, standard MIBs are used for quick, efficient network status and diagnostics. A web interface enables any authorized personnel direct access to powerful, advanced diagnostics using a common web browser. No proprietary software is required.