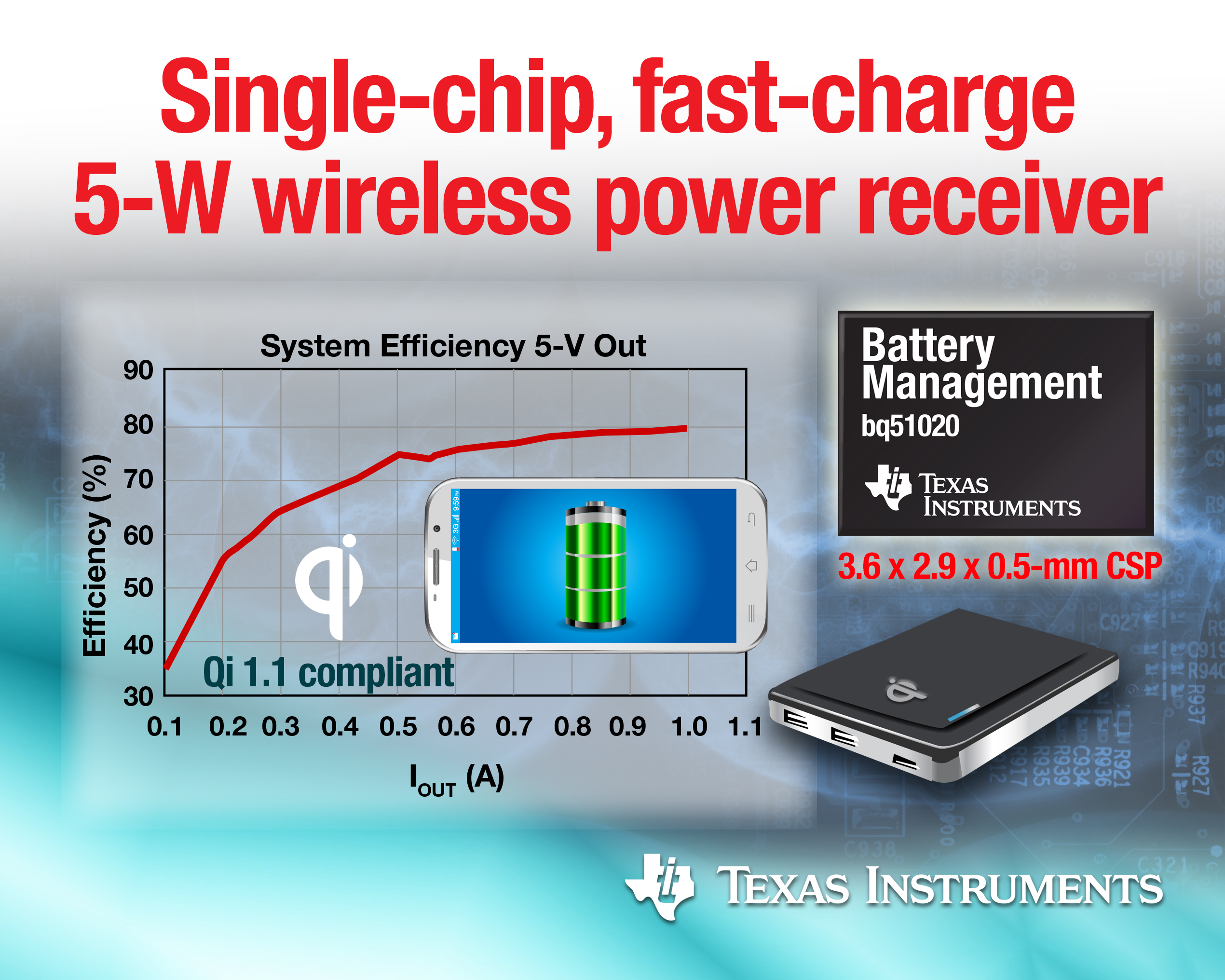 Texas Instruments (TI) has introduced a 5-watt wireless power receivers that support the Wireless Power Consortium (WPC) Qi 1.1 standard. TI's bq51020 and bq51021 allow consumers to charge their Qi-compliant mobile phones, tablets, power banks and other electronics faster, cooler and more efficiently compared to other available wireless power solutions.
Available to ship in volume today, the bq51020 and bq51021 single-chip receivers feature a programmable output voltage up to 8 V and low on-resistance MOSFETs to reduce power loss by as much as 50 percent, compared to existing solutions in the market. The bq51021 features an I2C interface, which allows system designers to implement foreign object detection and a unique "pad-detect" feature that makes aligning the receiver with the charger easier for a better user experience.
The receivers join the bq51221, which TI introduced in February as the first dual-mode 5-W wireless power receiver to support Qi and the Power Matters Alliance (PMA) specifications. TI also recently released the bq51003 2.5-W receiver for small portable and wearable applications. With these additions to the portfolio, designers can now order the bq51020EVM-520, bq51221EVM-520 and bq51003EVM-765 evaluation modules to get started on wireless power designs.
The bq51020, bq51021, bq51221 and bq51003 wireless power receivers are available now in volume production through TI and its worldwide network of authorized distributors. All three receivers come in a 42-ball, 3.6-mm by 2.9-mm by 0.5-mm chip scale package at a suggested resale price of US$2.50 for the bq51020, US$2.70 for the bq51021 and US$3.00 each for the bq51221 in 1,000-unit quantities. The low-power bq51003 receiver comes in a 28-ball, 1.9-mm by 3.0-mm chip scale package at US$1.30 each in 1,000-unit quantities.