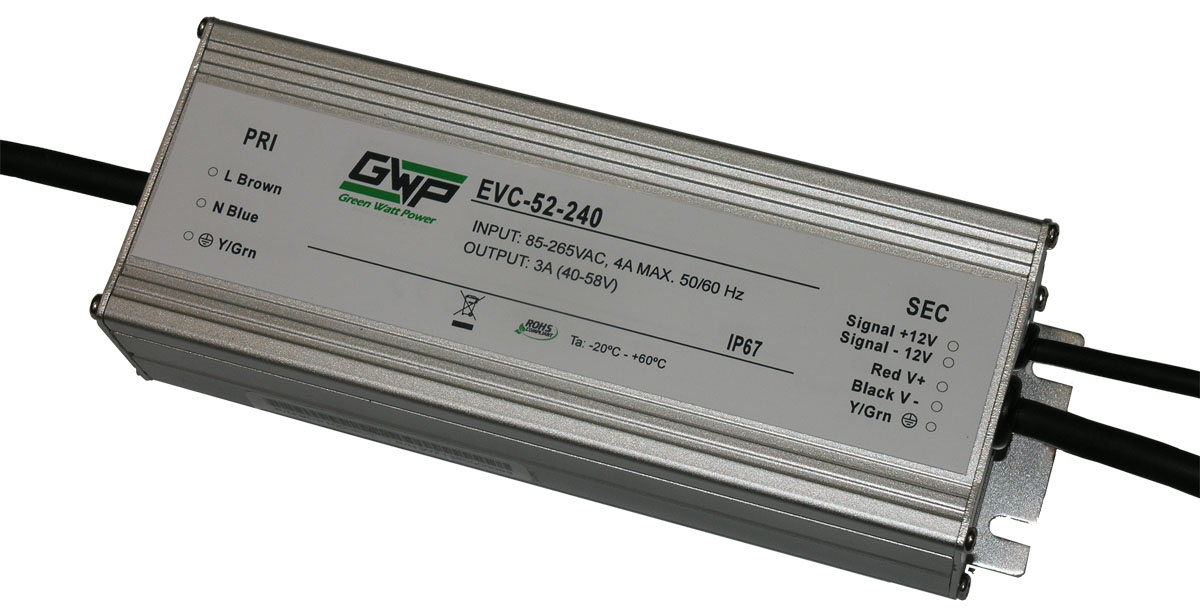 Green Watt Power, a division of Calex Mfg. Co., Inc., has released the 240 watt EVC-52-240 lithium ion battery charger.  The EVC-52-240 is designed for charging lithium ion batteries for a variety of applications including electric scooters, all terrain vehicles, etc.  The unit is housed in a compact IP67 waterproof enclosure for ease of installation/mounting on the vehicle.
The EVC-52-240 has an AC Universal Input Range, 85 to 265 VAC and includes a 12 VDC 50 mA output present signal feature.  The input frequency is 47 to 63 Hz.  Power Factor Correction is 0.99 at 110 VAC full load and 0.96 at 220 VAC full load.  The efficiency of the EVC-52-240 is 90 percent.  The output voltage range is 43.0 to 57 VDC and the output current range is 3.8A to 4.2 A.  Noise and ripple is +/-15 percent of the output current.  The EVC-52-240 features hiccup mode short circuit protection with auto recovery as well as over voltage protection and over temperature protection.
The EVC-52-240 measures 8.66 inches by 2.68 inches by 1.67 inches.  The unit is designed to meet UL1012 as well as EN61000-3-2 harmonic current emission requirements.  The EVC-52-240 is RoHS compliant and backed by Green Watt Power's Five Year Warranty.  Units are available from stock to 10 weeks.