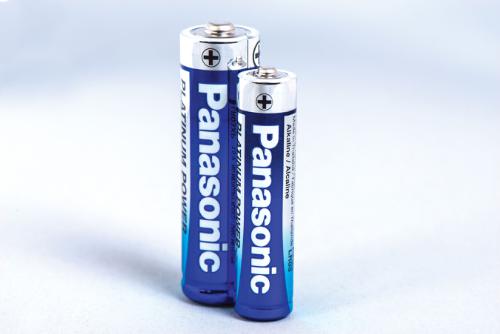 Panasonic Energy Corp. of America has introduced its AA and AAA Platinum Power batteries, alkaline battery cells that protect power for up to 10 years.  These batteries also feature enhanced storage capabilities and safe, stable power features.
The new Platinum Power AA and AAA battery cells were designed for high drain devices with greater power consumption such as radio controlled toys and game controllers.  Platinum Power batteries can also be used in everyday medium and low drain devices including flashlights, remote controls and thousands of other products.
Panasonic Platinum Power batteries come packaged in standard four and eight pack sizes and a wide variety of multi-packs with up to 24 cells or more.  The four pack AA size will have a MSRP of $3.99 and will be available from retail and online stores nationwide.
"Our new Platinum Power Alkaline AA and AAA battery cells deliver outstanding shelf life, protecting power up to 10 years¹.  Which means you can purchase these battery cells today and store them with confidence, until they are ready to use," said Yoji Takagi, Sales and Marketing Director, Panasonic Energy Corporation of America, Consumer Products Division.  "Panasonic Platinum Power batteries are excellent, long lasting batteries for all household devices."