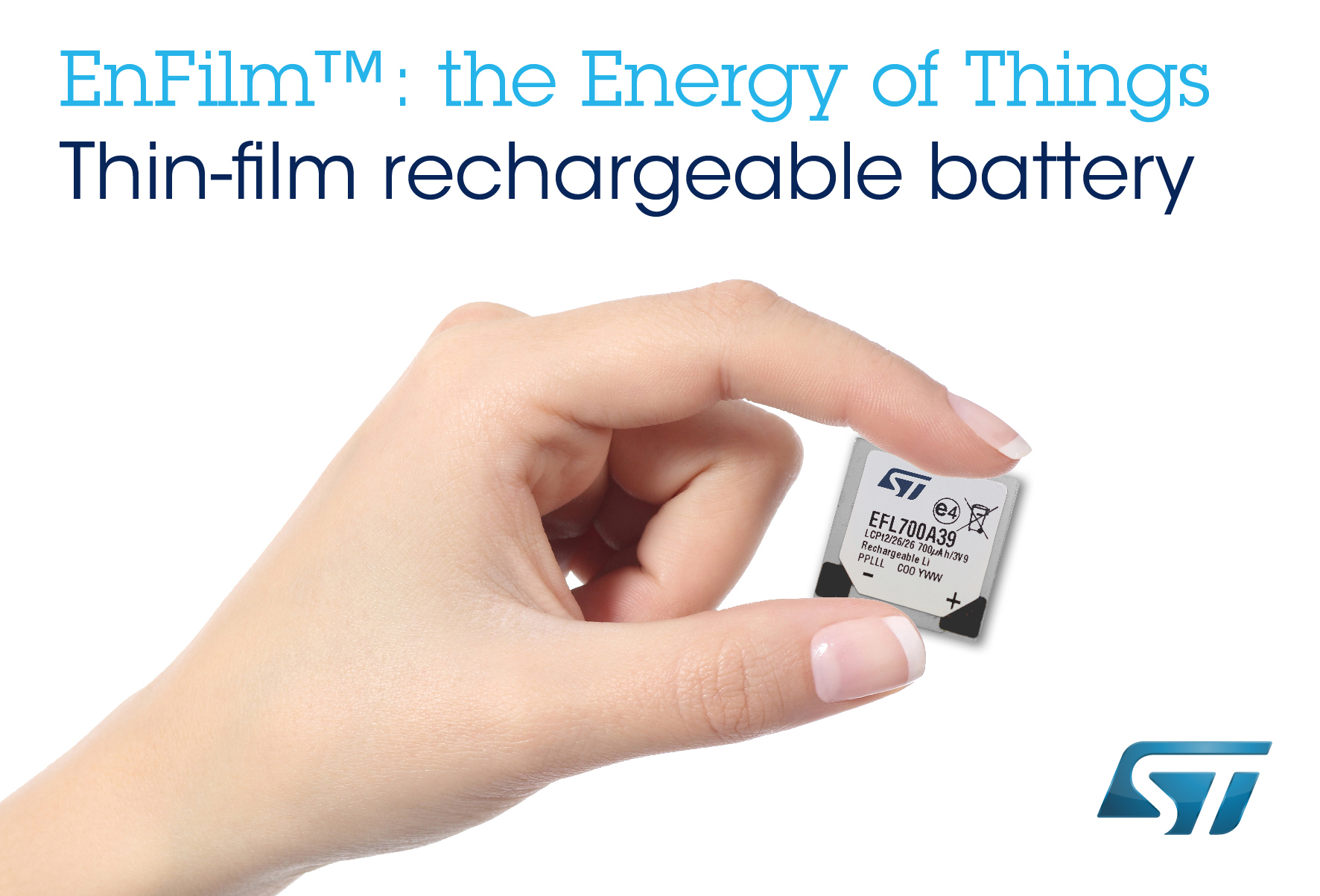 STMicroelectronics has begun limited production of its EnFilm advanced rechargeable batteries that are less than 0.25mm thick. These paper-thin batteries free designers from the constraints of standard battery sizes and are well suited for use in powering the next generation of personal technology and Internet-of-Things (IoT) devices.
At  220 µm thick and measuring 25.7 mm by 25.7 mm, ST's EFL700A39 EnFilm solid-state lithium thin-film battery is well suited for use in ultra-low-profile devices. Surface-mount terminals allow direct attachment to the circuit board, which simplifies assembly and eliminates wires and connectors. Optional tape-and-reel packaging allows high-speed automated placement.
With 3.9 V nominal voltage and 0.7 mAh capacity, the EFL700A39 can power a wide range of applications. Its lithium technology recharges rapidly from a 4.2 V charging circuit and displays low capacity loss as well as long cycle life allowing some 10 years of use if charged once per day. The EFL700A39 is RoHS compliant and UL certified, satisfies UN tests and criteria for battery transportation, meets IEC 62133 safety specifications, and meets the ISO7816/IEC10373 mechanical and flexibility standards for smart cards.
ST is ready to fulfill orders for engineering samples and small production quantities, targeting applications including wireless sensor nodes, RFID tags, smart cards, wearable technology, non-implantable medical monitors, and back-up or storage for energy-harvesting devices. The price is $30.00 per unit for orders of five units minimum.