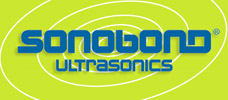 1191 McDermott Dr
West Chester, PA 19380
800-323-1269
Melissa Alleman, Vice President
Advanced battery and capacitor manufacturers rely on Sonobond's ultrasonic spot welders for environmentally friendly, high performance foil-to-foil, -tab and -terminal welds, battery pouches and HV terminations.  They're the ideal choice for today's Lithium-Ion, Ni-CD and Ni-MH battery assembly.
The SonoWeld® 1600 and Dual Head Spot Welders use lower vibration amplitude than other ultrasonic equipment to weld foils as thin as seven microns, without tearing.  Plus, the Dual Head Spot Welder is the only ultrasonic welder that can join up to 100 layers of copper or aluminum foil in just one pulse.
We offer no cost/no obligation sample welds made with your specific materials so you can see the results before you buy the unit that's right for your application. Simply visit www.sonobondultrasonics.com and click on the Free Sample Welds button to schedule your welding viability test.
Ultrasonic welding directs high frequency, ultrasonic energy via the welding tip to the surface between the metals being welded.  The vibratory energy disperses the oxides and surface films between the work pieces, creating a true metallurgical bond without melting the materials or using any consumables.
All Sonobond metal spot welders are made in the U.S.A. and employ the company's unique, patented Wedge-Reed Bonding System of high vibratory force and low amplitude coupling.  By utilizing shear mode vibration parallel to the welding surface and putting the line of force directly over the parts to be welded, precise, dependable, solid-state and highly conductive welds are achieved, without bending stress or stalling.
An important fact is that Sonobond's ultrasonic system is the only one that enables most oxidized and tinned metals and wires to be welded without pre-cleaning.
A pioneering manufacturer of ultrasonic equipment for welding non-ferrous metals and other materials, Sonobond holds more than 150 patents, including the first patent for ultrasonic metal welding, awarded in 1960.  Our ultrasonic metal welding and splicing equipment is also used to assemble wire harnesses, single point ground terminals, fuses/circuit breakers, ignition modules, starter motors, bus bars and photovoltaic panels.
Categories:
Aerospace/Aviation
Automotive
Cable/Harnesses
Electric Vehicles
Lithium-Ion
Manufacturing Systems/Machinery
Ni-CD
Ni-MH