An online Virtual Expo of products and services for battery power, available 24×7 Wordwide
The Battery Power Online Buyers Guide is a great way to be in front of potential customers. The Online Buyers Guide is a searchable tool for users to find the battery related products and services they need. Make sure your company is visible when a potential customer searches for the specific products or services your company can provide!
For a custom plan contact sales
The Battery Buyers Guide is an online guide that covers the battery industry from A to Z. Find providers of Batteries, Battery Packs, Chargers, Components, Materials, Manufacturing Equipment, Power Supplies, Testing Systems & Equipment + much more!
Enhanced Company Profiles – $350 per year
– Three Enhanced Category Listings
– Company Logo in color
– Complete contact information
– Up to 500 word company description
(Additional categories are $50 each.)
Sample Enhanced Category Listing & Profile: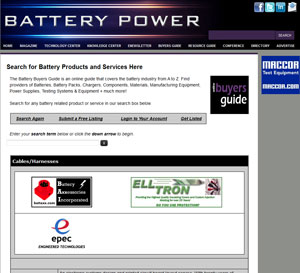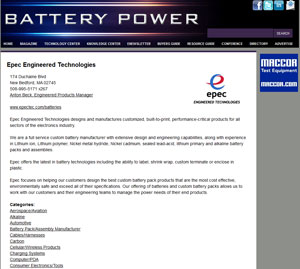 For questions about placing an Enhanced Company Profile, Contact Robert Schaudt 720-528-3770 x125