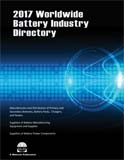 285 Pages – 3,200 Companies – 6,200 Contacts
The Worldwide Battery Industry Directory is an authoritative annual desktop reference guide for battery manufacturers, battery dealers and developers of products utilizing battery technology.
Inside this high-quality publication is a comprehensive, industry-wide listing of battery manufacturers and distributors broken down by chemistry as well as vendors and suppliers to the industry. Each company is coded with the market they serve to provide a useful resource guide.
If you prefer to order by phone, please call Marc Vang at 1-800-803-9488 x131.
We offer the Battery Industry Directory in three formats:
$695
Data will come to you in MS Excel Spreadsheet format with the ability to view, sort, search, and download.
Generate mailing lists or use as a telemarketing tool with this easy-to-use database.
$265
Printed directory organized in an easy-to-read format.Great desktop reference.
$295
Same data as hard copy except comes in a handy electronic PDF version.
Stored and viewed on your computer.
Order your copy of the Battery Industry Directory
Sample Listing
Get your company listed – Click Here