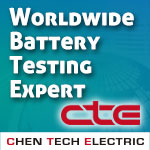 1F, No. 27, Ln. 61, Sec. 1, Guangfu Rd., Sanchong Dist.
New Taipei City 24158
Taiwan
+886-2-2278-3825
Ilma Chuang
Chen Tech Electric (CTE) is the worldwide battery test expert, and focuses on producing precise, reliable, and affordable battery test equipment. In the past 30 years, we've shipped more than 300,000 test channels to more than 300 worldwide clients, including many top battery manufacturers and certification companies.
Locations
Headquarter located in Taipei, Taiwan, CTE also has branch offices in Japan and China, and sales representatives in USA, Korea, Thailand, and Bangladesh. In addition, our USA service center has been established in 2016 to provide more instant help to growing USA clients.
Core Competence
CTE promises to provide high performance and made-in-Taiwan battery test equipment to worldwide clients, with reasonable cost. Moreover, we are happy to customize for our clients, and help them get best use of our equipment.
Product Series
To meet various test requirements from our clients, CTE offers comprehensive battery test solutions:
Eco-Friendly, High Power EV Battery Test Equipment PBT 1000
Up to 500kW, 1000V, 1000A output capacity
Discharge energy recycling feature with efficiency up to 95%
Customized test patterns that fully support EV battery test requirements
Rapid and Precise Used EV Battery SOH Evaluation
Evaluation results received in <30 seconds, with <10% error
Multi-indicator evaluation algorithm, adjustable for different battery types
High Precision, Customizable Multi-range Battery Test Equipment BT 1000
0.02% F.S. output and measurement accuracy; up to 1ms data recording time
4 current ranges, customizable according to your testing requirements
Independent modulized design, allowing both one channel and muiti-channel operations, provides high mobility for battery test
Economic Battery Cycler MCF Lite
0.075% F.S. voltage output/measurement accuracy; 0.06% F.S. current output/measurement accuracy
Satisfying performance, affordable cost
Good for long-term battery cycle test
Other Highlight Products:
New Generation Advanced Battery Test Equipment MCL2
New Generation Portable Battery Test Equipment MCL2 Mini
Chamber Integrated Battery Test Equipment ABT 1000
Lead-acid Battery Test Equipment MCT-18B/18M Series
Eco Series: Lead-acid Battery Formation Equipment MCE S Series 
Categories:
Electric Vehicle
Manufacturing Systems/ Machinery
Test/Measurement Instruments
Tester Manufacturers
Testing Services
Testing Systems/Equipment
Charging Systems
Charging Manufacturer