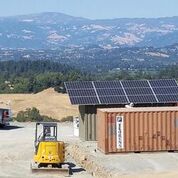 Pure Power Solutions has completed a plug-and-play approach to solar+storage microgrids for remote locations with a system using standard shipping containers and energy dense, non-toxic battery technology from SimpliPhi Power. The first system is now operational at Vacherie Ranch, a 450-acre agricultural and recreational retreat located in Western Sonoma County, Calif. Prior to the solar microgrid installation, the enterprise relied primarily on diesel generation to power its agricultural and recreational operations. In the search for a better solution, extending electrical transmission lines to the ranch was deemed cost-prohibitive. The rugged, highly efficient and reliable SimpliPhi batteries combined with solar allow the ranch to be powered by a clean, reliable microgrid that saved the enterprise well over half a million dollars compared to an extension of grid power.
"SimpliPhi's solutions offer a high level of certainty in terms of economics, lifetime throughput, available capacity and non-toxicity. Without heat generation, the thermal stability and resiliency around a wider thermal window than other batteries significantly reduce catastrophic failure.  Additionally, SimpliPhi reduces or eliminates the need for additional costly and potentially complicated battery management systems as well as always-available critical space conditioning equipment. These issues, typically associated with cobalt-based lithium batteries, are particularly important, more reliable and cost effective for remote locations where we so often work, such as Vacherie Ranch. When you put all these things together, SimpliPhi is easily a superior value to anything else that we considered for this particular project," said Rody Jonas, co-founder and president of Pure Power Solutions. "With well over two decades designing, building and operating off-grid systems, we take longevity, reliability, overall lifetime value and sustainability very seriously. SimpliPhi fits very well within our and our projects' demanding requirements, and we are looking forward to more projects we currently have in-process on and into the future with SimpliPhi."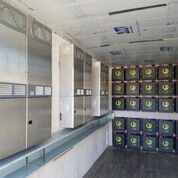 For this project, Pure Power Solutions used a containerized solution to build out Vacherie Ranch's solar+storage microgrid system consisting of 22 kW of solar PV and 85kwh of non-toxic SimpliPhi Power PHI 3.4 batteries. Since the system was pre-installed and configured inside the shipping container, allowing for extremely quick on-site deployment, the farm had power the same day the system was delivered. Additionally, the system is scalable, with the ability to easily expand as energy needs grow at the ranch.
"Solar installers who are looking for alternatives to toxic and maintenance-heavy lead acid batteries are finding our Lithium Ferrous Phosphate solutions provide the reliable access to power they are looking for," said CEO of SimpliPhi Power Catherine Von Burg. "From the improved cycle life, depth of discharge and efficiency charge and discharge rate, to the decreased footprint and lack of temperature regulation requirements, SimpliPhi opens new possibilities for innovative storage applications like the one Pure Power Solutions developed for Vacherie Ranch."