Linear Technology Corp. has introduces the LTC4015, a highly integrated, high voltage multichemistry synchronous step-down battery charger controller with onboard telemetry functions. The device efficiently transfers power from a variety of input sources, such as wall adapters and solar panels, to a Li-Ion/Polymer, LiFePO4 or lead-acid battery stack and system load up to 35 V. It provides advanced system monitoring and management functionality, including battery coulomb counting and health monitoring. While a host microcontroller is required to access the most advanced features of the LTC4015, the use of an I²C port is optional. The main charging features of the product can be adjusted using pin-strap configurations and programming resistors.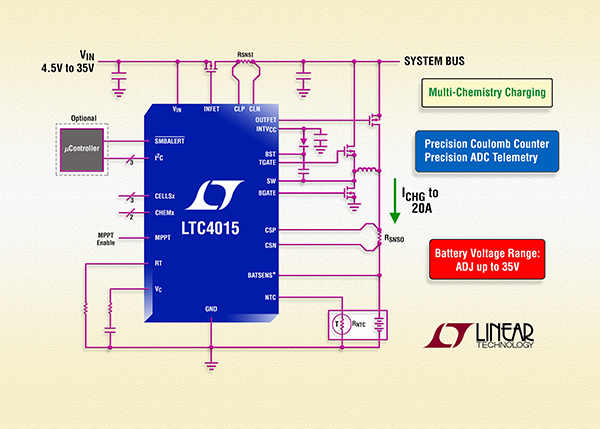 The device offers precision ±5 percent charge current regulation up to 20A, ±0.5 percent charge voltage regulation and operation over a 4.5 V to 35 V input voltage range. Applications include portable medical instruments, military equipment, battery backup applications, industrial handhelds, industrial lighting, ruggedized notebooks/tablet computers, and remote powered communication and telemetry systems.
The LTC4015 contains an accurate 14-bit analog-to-digital converter (ADC) as well as a high precision coulomb counter. The ADC continuously monitors numerous system parameters, including input voltage, input current, battery voltage, battery current, and reports battery temperature and battery series resistance (BSR) on command. By monitoring these parameters, the LTC4015 can report on the state of health of the battery, as well as its state of charge. All system parameters can be monitored via a 2-wire I²C interface, while programmable and maskable alerts ensure that only the information of interest causes an interrupt.
The LTC4015's onboard charging profiles are optimized for each of a variety of battery chemistries including Li-Ion/Polymer, LiFePO4, and lead-acid. Configuration pins allow the user to select between several predefined charge algorithms for each battery chemistry, as well as several algorithms whose parameters can be adjusted via I²C. Both charge voltage and charge current can be automatically adjusted based on battery temperature to comply with JEITA guidelines, or custom settings.
The LTC4015 is housed in a 5 mm by 7 mm QFN package with an exposed metal pad for excellent thermal performance. E- and I-grade devices are guaranteed for operation from -40°C to 125°C. 1,000-piece pricing starts at $5.95 for the E-grade and devices are available from stock.