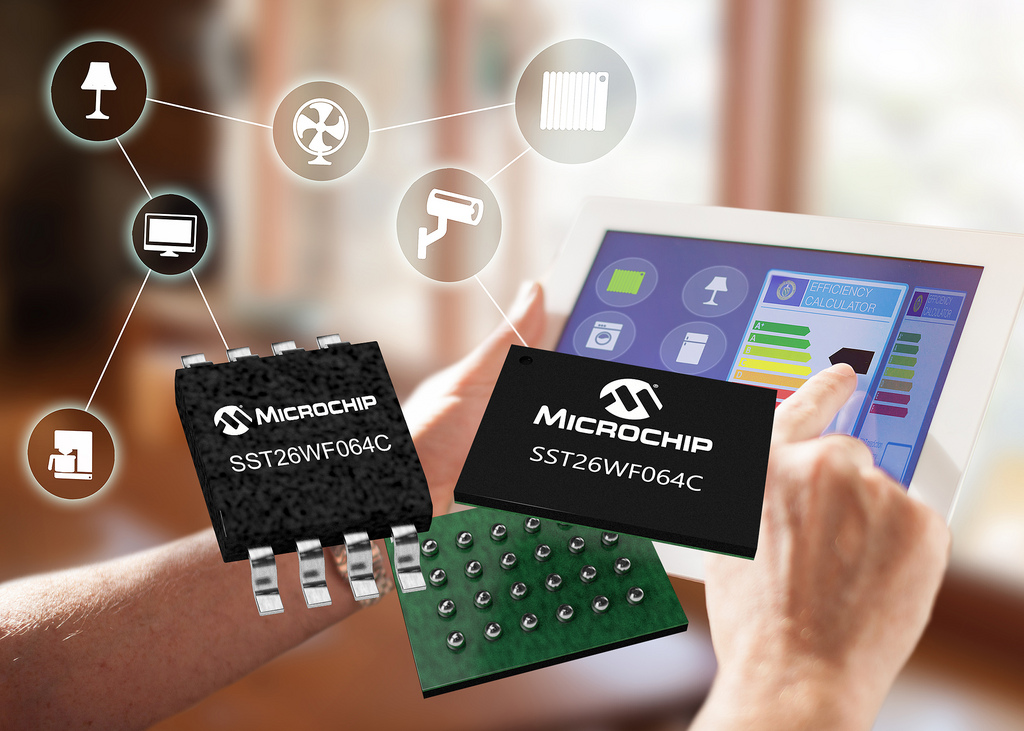 A 1.8 V Serial Quad I/O SuperFlash memory device is now available from Microchip Technology, Inc. The SST26WF064C, a low-voltage 64 megabit device, combines Dual Transfer Rate (DTR) with proprietary SuperFlash NOR Flash technology, making it well suited for wireless and battery-powered applications. DTR gives customers the ability to output data on both edges of the clock, which reduces overall data access time and power consumption. SuperFlash technology also reduces power consumption by providing the industry's fastest erase times. Typical chip erase time for the SST26WF064C is between 35 and 50 milliseconds (ms), whereas competitive Flash devices take more than 30 seconds to erase.
The SST26WF064C also comes with a hardware-controlled reset functionality enabling a robust device reset. Most serial Flash devices in the market do not support a hardware reset function due to pin count limitations on the package. With this Microchip device, customers have the option to reconfigure the HOLD# pin for this reset function.
Operating at frequencies reaching 104 MHz, the device enables minimum latency execute-in-place (XIP) capability without the need for code shadowing on Static Random Access Memory (SRAM). The new device utilizes a 4-bit multiplexed I/O serial interface to boost performance while maintaining the compact form factor of standard serial Flash devices. The SST26WF064C also supports full command-set compatibility to the traditional Serial Peripheral Interface (SPI) protocol.
Microchip's SuperFlash technology also means the device is based on a proprietary split-gate Flash memory cell, giving additional capabilities such as high endurance cycling of up to 100,000 erase/write cycles, data retention of more than 100 years and fast erase times.
The SST26WF064C is offered in a variety of package options including an 8-contact WDFN (6 mm by 5 mm), 8-lead SOIJ (5.28 mm), 16-lead SOIC (7.50 mm) and 24-ball TBGA (8 mm by 6 mm). Devices are available today in volume production starting at $2.05 each in 10,000 unit quantities.