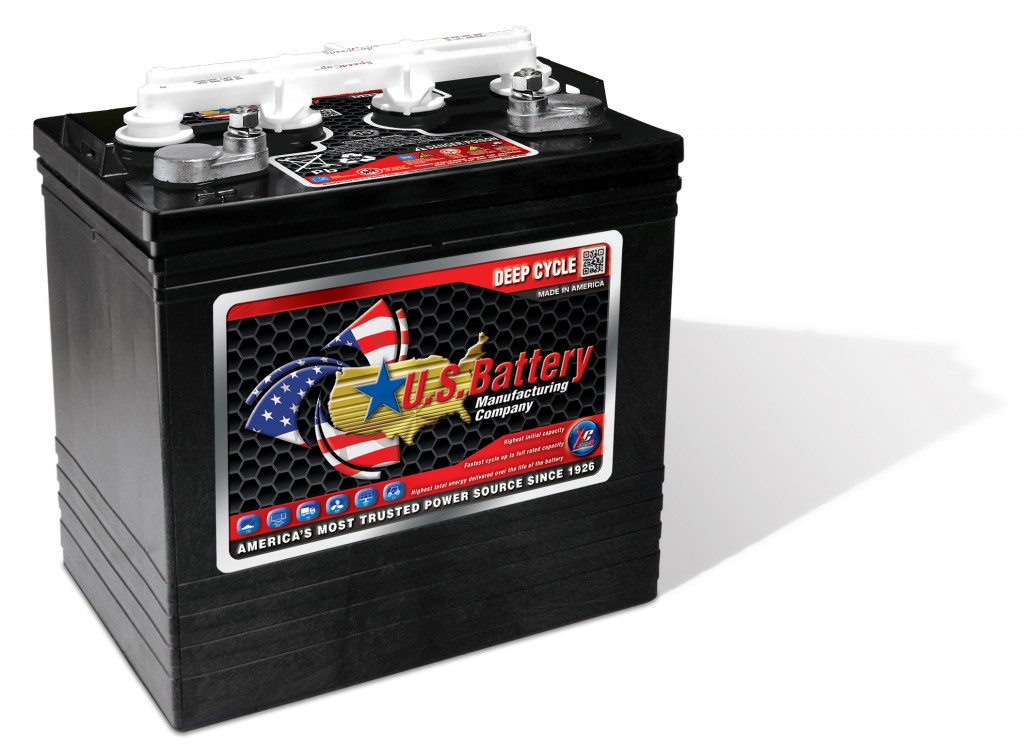 U.S. Battery has redesigned its US 8VGCE XC2 8-volt deep-cycle battery with more amp-hour performance and improved longevity, to provide greater power and reliability for a variety of applications.  US 8VGCE XC2 is one of the company's Group GC8 line of performance 8-volt batteries, and is a popular choice for professionals wanting an economical option to power their vehicles and equipment. Although the US 8VGCE XC2 was built for economy, it doesn't lack in performance. It now offers 110 minutes of runtime at a 56 amp draw, (155 amp-hours at a 20-hour rate) and weighs a hefty 60-lbs. (27kg), making it a top shelf choice in its class.
The US 8VGCE XC2 comes in a durable black polypropylene heat-sealed case with a black top, and features standard bayonet vent caps. It is also available with the company's SpeedCap as an added option, and can be ordered with a variety of high-quality terminals to match a wide range of wiring options. Built with U.S. Battery's exclusive XC2 Formula and Diamond Plate Technology, this redesigned 8-volt battery can also reach higher initial rated capacity, and faster cycle up time to full-rated capacity than any other battery in its price range.
For customers who want greater power and performance with premium internal components, U.S. Battery's line of 8-volt batteries also includes the US 8VGC XC2 (170 Ah at 20-hr rate, 64-lbs/29-kg), the US 8VGHC XC2 (183 Ah at 20-hr rate, 67-lbs/30-kg), and the company's 8VGCHATB all-terrain battery (205 Ah at 20-hr rate, 73.2-lbs/33.23-kg), a battery designed for the most demanding applications while offering the longest runtimes in the industry.