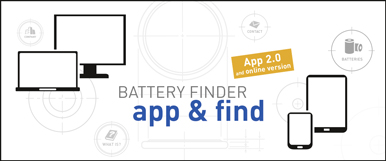 Users looking for just the right battery for their application now have a tool available from Panasonic, the 2.0 version of the Battery Finder App. The latest  App is a compilation of hundreds of industrial batteries, with a wealth of information, pictures and videos on battery technologies. With this tool, users will always be able to locate exactly the right battery for their application. The smartphone App is now joined by a new online application that is optimized for computers or tablets.
Cordless drills and UPS systems, smoke detectors and wind turbines, they all depend on high performance batteries to do their job. And with the number of applications needing battery power on the up and up, the range of batteries available on the market is also proliferating. Companies developing a new product increasingly have a hard task to pick out exactly the right power source from the myriad of choices available. Not least because choosing a battery isn't just about performance: equally important are factors such as safety and durability, size and contacts.
Panasonic has released the completely revised App version 2.0,  together with an online application optimized for computers or tablets. There's now an export function for images and drawings; service functions are easier to access, and the user experience has been made more intuitive. The online version provides the added benefit of a battery comparison function. Both the smartphone App and online application are linked directly with the Panasonic YouTube channel, which offers an ever-growing choice of videos explaining technologies and applications.
The App pulls together a vast amount of details, including information on a variety of Panasonic batteries, spec sheets, diagrams, technical drawings and contact terminals. With an extensive database of information on battery technology, details on product groups (chemistries) and videos showing interior battery workings, this is a valuable tool for all developers and electronics engineers.
The smartphone App is available for Android and iOS (iPhone) devices, and can be downloaded free of charge in App stores. The online application can be found on the Panasonic website (http://www.panasonic-industrial.com/batteryfinder).