EnerSys has helped its customers change out 5,000 lift trucks to battery power as part of its Convert to Electric (C2E) program. The C2E program is the first and only dedicated effort to help companies using internal combustion lift trucks switch to electric fleets.
"Since 2008, we've made a concerted effort to guide customers through the process of converting their lift truck fleets to electric power, and we've saved them more than $125 million in fuel costs," says Jeff Long, vice president, sales and service, EnerSys. "Battery power provides reliable, long-lasting, robust energy, and it's better for the environment. We've helped our customers improve productivity, and save dollars and time on maintenance and fuel."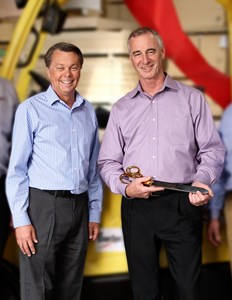 Atlantic Plywood, a multi-site wholesale distributor of building materials based in Woburn, MA, became the 5,000th lift truck conversion when it switched 20 of its internal combustion forklifts to battery electric over the last year.
"We started with five lift trucks and were so pleased with the results, we extended to 20 trucks," says John Blakeney, CFO, Atlantic Plywood. "We find they are cleaner, quieter, more efficient, and they handle the work better than the old propane lifts."
Blakeney estimates that Atlantic Plywood is saving $12,000 on each lift truck, because of savings on fuel and maintenance. The company is planning to soon convert all of its lift trucks to electric. (See
Knowing that customers have questions about battery-powered lift trucks, recharging options and electric installation requirements, EnerSys launched its C2E program as a way to advise and guide customers through the process.
"Along the way, we've developed unique tools that allow customers to compare various power options, customized to their particular operating environments," said Long. "So they can get an idea of their costs and energy consumption right up front."
EnerSys also introduced ZBC Designer, software that analyzes a customer's operational requirements, such as number of trucks, number of shifts and type of work performed, and designs the optimum configuration of batteries and chargers for each site.
"With the Zero Battery Change (ZBC) program, customers need just one battery per truck, and they can quickly recharge the battery during regular breaks. There's no need for time-consuming battery changing, no need for a separate battery room," said Long. "Our software shows customers which charging options will work best for their environment: once-a-day opportunity charging, or fast-charging that allows them to charge while the driver is on break."
Noting customer satisfaction and the expanding market trend toward electric power for lift trucks, EnerSys plans to extend the C2E(SM) program's outreach to dealers and end-users nationally. For more information, go to convert2electric.com.