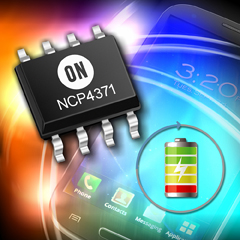 ON Semiconductor has introduced a reference design implementing the new Qualcomm Quick Charge 3.0 protocol.  The protocol provides significant efficiency improvements over the existing Quick Charge 2.0 solution. The high efficiency, small form factor reference design supports the Quick Charge 3.0 High Voltage Dedicated Charging Port (HVDCP) Class A and Class B specifications, Qualcomm's next generation of fast charging technology for smartphones and tablets, as well as offering backward compatibility to the older Quick Charge 2.0 protocol. Qualcomm Quick Charge 3.0 technology is a product of Qualcomm Technologies, Inc., a subsidiary of Qualcomm, Inc. The availability of a complete reference design from ON Semiconductor as well as certified conformance from UL aids the rapid development of small form factor chargers for portable applications with industry leading efficiency.
The reference design highlights the  NCP4371 secondary side charge controller, which allows the charger USB-bus voltage to be changed based on requests from the phone or portable device. To optimize the battery charging time, the USB-bus voltage can be controlled in discrete steps from 3.6 V up to 20 V. The charge controller is also suited for use in A4WP wireless charging applications where the voltage can be optimized based on the transmit (TX) portion of the reference design.
The NCP4371 also removes the need for a secondary shunt regulator saving cost and the space required to implement a charger design.  The primary side controller is the NCP1361 PSR quasi-resonant PWM controller and the synchronous rectification controller is the NCP4305.  The combination of these two controllers enables a high efficiency design meeting CoC Tier-2 requirements for chargers.
"Fast charging capability is quickly gaining acceptance at all portable device manufacturers," said Shane Chilton, director of the AC-DC business unit at ON Semiconductor. "We are excited to be working with Qualcomm on this next generation power solution which ties in with our strategy of delivering innovative high efficiency solutions to our customers."
The NCP4371 is offered in a SOIC-8 package and priced at $0.18 per unit in 10,000 unit quantities.