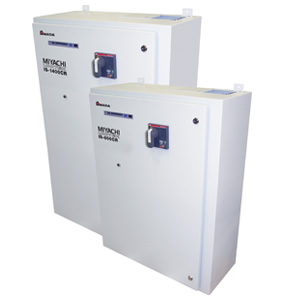 Amada Miyachi America, Inc. has released its new IS-800CR and IS-1400CR mid-frequency inverter power supplies. These power supplies are well suited for a wide range of aerospace, electronic automotive, battery and appliance applications, including commutator fusing, copper wire to terminal, sheet metal and bus bar. Both the IS-800CR and IS-1400CR are available in a basic model, which introduces a new set of features, and a full-featured model offering advanced force and displacement abilities not readily found in other power supplies.
The IS-800CR is an 800 Amp inverter power supply that provides output power ranging from .050-40kA in 4 ranges, so it can be used as a standalone large scale welding station or for applications that require welding many different sized parts on the same station. The IS-800CR is an excellent choice for applications requiring closed-loop feedback control and fast response times.
The IS-1400CR is a 1400 Amp inverter power supply, providing 0.050 to 80 kA of power in five ranges. With this higher output power, the IS-1400CR can be used for the same applications as the IS-800CR, as well as those requiring higher currents including aluminum, copper, and projection welding.
The basic models have six control modes (primary limit, primary and secondary root mean square (RMS), secondary constant power, secondary voltage control, and fixed pulse), two valve outputs, and provide a precisely controlled repeatable waveform, adjustable from 600 Hz to 3,000 Hz in 100 Hz steps. Durable and reliable, the power supplies include a NEMA enclosure with circuit breaker and primary short circuit protection. The full-featured models include all basic model features, as well as displacement limits/monitoring, resistance pre-check, six valve outputs and repeat function.