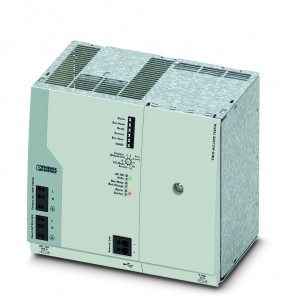 Phoenix Contact now offers a UL Listed AC-UPS battery backup solution well suited for applications that need to minimize cabinet space. The TRIO 750 VA-AC UPS is an off-line UPS that provides 600 W of power from the integrated 3.4 Ah valve-regulated lead-acid (VRLA) battery.
Common AC-UPS solutions are large, cumbersome, and difficult when it comes to battery maintenance. The TRIO AC-UPS features a battery that allows for easy replacement even while UPS is in mains mode. This hot-swap capability eliminates the need to shut down the entire system for a battery replacement.
The TRIO AC-UPS also provides remote diagnostics via mini-USB cable in regards to the condition of the battery backup system. The use of terminals for multiple outputs and control inputs allow for a forced shutdown/startup from the battery bank, indication of battery readiness, indication of battery mode, and alarm conditions. LEDs provide localized indication of the present conditions of the UPS including battery failure, service mode, overload, and others.
Among other features, this backup solution offers a 5-year warranty on the UPS module and a 1-year warranty on the integrated battery. With both DIN rail- and panel-mount capabilities, the TRIO AC-UPS works for any cabinet.